An article by caroline, added on July 23, 2020 2 min. reading
In August, the Grand Roissy Tourist Office joins forces with Annie ocana, Certified Nature Guide, to offer you guided walks to discover Luzarches.
Every Saturday from August 8 to 29, Annie Ocana will offer a discovery of Luzarches, its know-how from yesterday to today :
"Ideally located on a fertile hill, at the gates of the capital, Luzarches has always been a key stopover, on the communication axis that links Paris to Amiens. Over the centuries many farmers, artisans and traders have prospered by taking advantage of the natural resources offered by this territory. Doctors and surgeons have also punctuated the history of Luzarches, a city teeming with life. Today Luzarches has once again become a peaceful town which remains impregnated by this past effervescence. This walk is an opportunity to observe the many clues hidden in the city and which reveal ancient know-how. "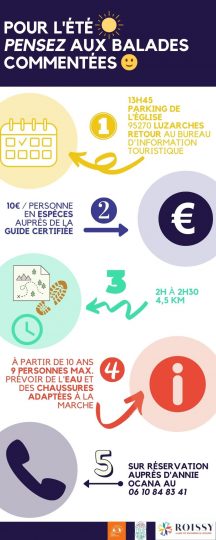 For this discovery walk, here is the circuit that will be offered:
4,5 km
2h30
10 € per person
Appointment is given at 13:45 in the parking lot (free) of the church; the return is planned at the Tourist Office
Bring water and shoes suitable for walking.
Reservations are compulsory and can be made directly with Annie Ocana on 06 10 84 83 41.