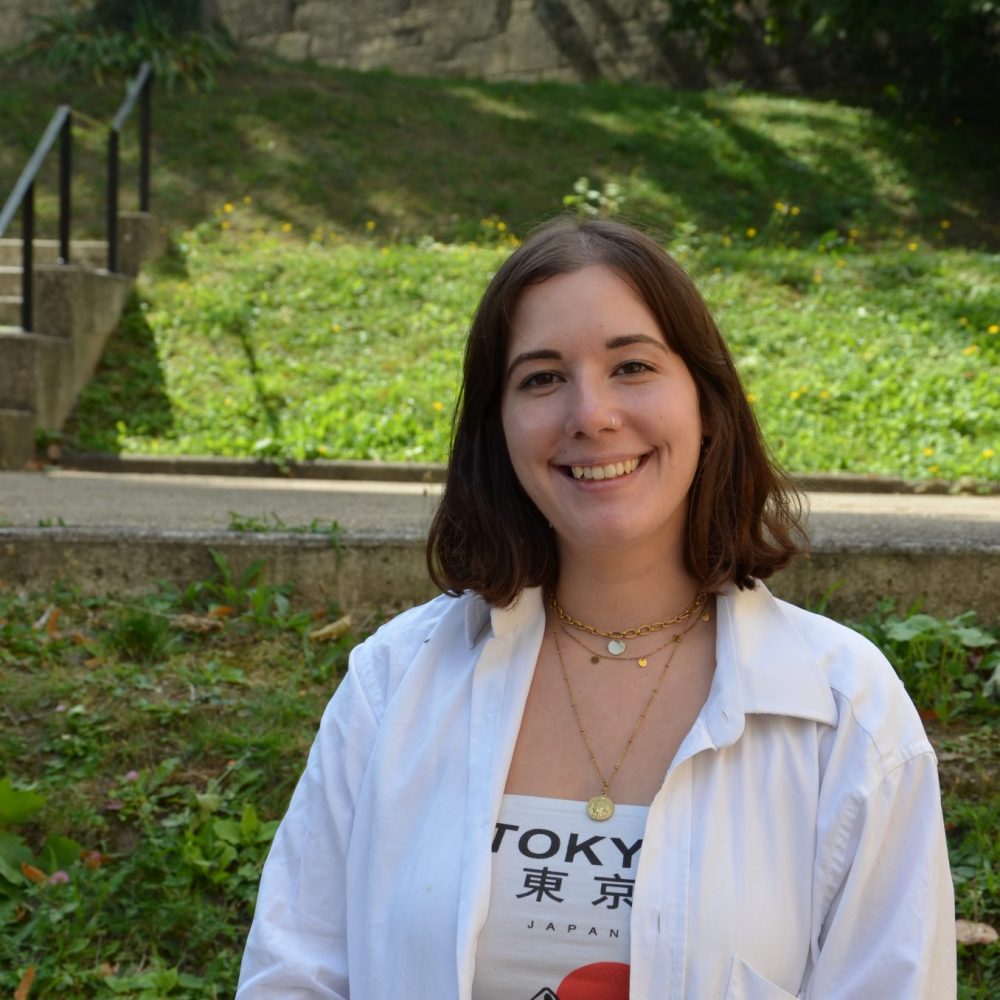 An article by Chloé, added on 11 October 2021 3 min. reading
Like every month, the hotels in our region offer offers and activities in order to best satisfy their customers. So, once again, we invite you to discover below the different offers offered by our hoteliers.. In addition, you will find new catering offers from the Golf International de Roissy.
Hotel offers and activities
Le MOXY PARIS CHARLES DE GAULLE AIRPORT offers various activities, workshops and themed evenings. With its concept, "Thursdays #ATTHEMOXY", our young hotel invites you to join them in a spirit of celebration. You will be able to discover a "beer tasting" workshop, a live DJ evening. In addition, you can participate in a tattoo and nacho party as well as a Halloween mask competition. The draw will be held on the evening of October 31 with a stay on the Côte d'Azur to be won! Find all the Moxy info here.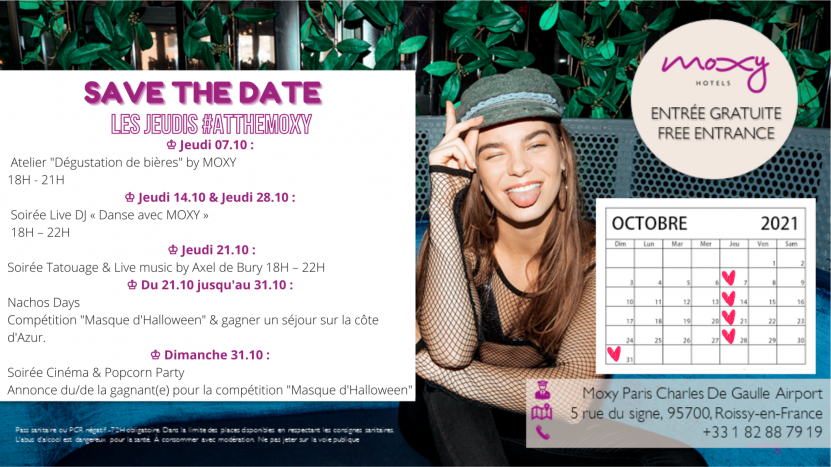 In addition, the HYATT REGENCY PARIS CDG It still offers a special afterwork offer. In fact, in order to celebrate the reunion between teams, the hotel offers one drink per person for the reservation of a study day. Thus, until December 31, you will be able to benefit from wines, beers, soft drinks. Likewise, savory platters are also to be shared. The other hotel offers are available by clicking here.
Similarly, GOLDEN TULIP PARIS CDG AIRPORT VILLEPINTE offers an offer for your seminars. Thus, for any meeting reservation of 10 participants for a study day at 72 €, they will offer you 2! The study days include: a meeting room equipped with daylight for the day, a coffee reception (hot drinks, mini pastries), a gourmet break in the morning. In addition, you will have a lunch at the restaurant (cold buffet + hot buffet + dessert + mineral water and coffee) and a gourmet break in the afternoon. The offer is subject to availability and valid until the end of December 2021! To benefit from the offer, you must make your request by phone at 01 34 29 03 80. You also have the option of doing so by email at seminaires.roissy@goldentulipcdgvillepinte.com. Discover all the Golden Tulip offers here.
Good news for brunch lovers, THE MANOR OF GRESSY resumes from this Sunday, October 17 its brunch from noon. Reservations are recommended using the number or email address provided in the photo below.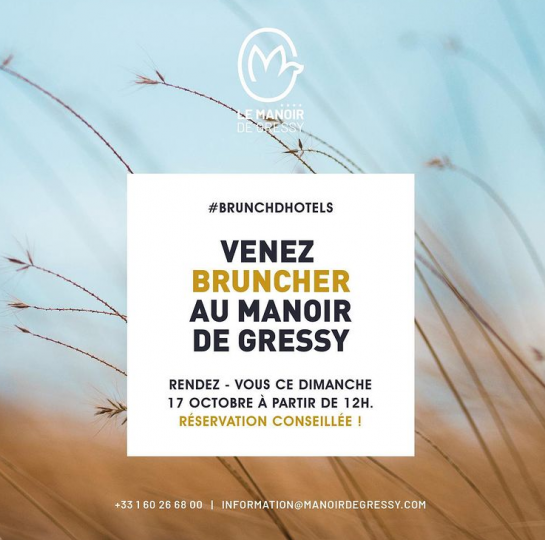 The International Golf of Roissy
This Thursday, October 14, come and discover the new menu as well as a new Catering offer offered by the ROISSY INTERNATIONAL GOLF ! New snacking and B&B formulas are available to you. In addition, you will be able to discover their new concept "At the bar of the 9", the weekend from 12h to 19h. Finally, do not hesitate to take advantage of the happy hours on weekends until the end of the month: for 3 glasses purchased, a free board! Dear golfers, take your fork!