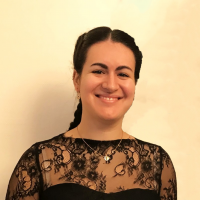 An article by Chloe L, added on September 13, 2023 2 min. reading
Last month, the CCI of Paris Île-de-France published its report on business tourism for the year 2022 and the first quarter of 2023.
Review of the 2022-2023 trade fairs
In 2022, 379 face-to-face trade shows were registered in Île-de-France, i.e. 6,6 million visitors including 402 coming from abroad. It also represents 230 exhibiting companies, including 91 from abroad and €966 billion in economic benefits for Île-de-France.
In the 1st quarter of 2023, trade show activity showed good performance compared to 2022: +17,5% exhibitors and +23,1% visitors. Despite everything, these figures remain 10% lower than those of 2019 but indicate a return to normal activity. Activity in the 1st quarter of 2023 still represents 85% of the 1st quarter of 2019. This strong increase is mainly linked to professional trade shows rather than to general public trade shows (see table below). This is explained because there is what we call a catch-up effect on the part of the B to B segment. Professionals – exhibitors and visitors – 98% of them prefer face-to-face trade shows for their human meetings and its networking, but also because we can touch and see the products.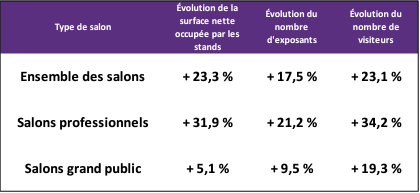 Evolution of trade shows in 2023 compared to 2022. Source: CCI Paris IDF
Conference results
According to figures from the CCI Paris IDF, we can see a clear rebound in congress activity in 2022. According to the Paris Tourist and Convention Office (OTCP), Île-de-France welcomed 715 conferences in 2022, or 384 more than in 2021 but 369 less than in 2019. Attendance reached 866, a figure close to that of 317. This represents €2019 million in economic benefits for the region. And that places Paris in the top 3 global destinations for hosting congresses, just behind Vienna and Lisbon.
Other manifestations of business tourism
Other professional events are also on the rise in 2022. Last year there was 1 corporate events with 1,3 million participants. Among these events, there are 333 seminars, 238 conventions, 128 conferences, 83 general assemblies and 81 symposia. In addition to this, the CCI has identified 460 show-events cultural and sporting events, examinations, training and various events in the region.