Before any purchase, please consult the Terms & Conditions of the City Tour Grand Roissy Stopovers 2023.
All stopovers are available on the Tourist Office website for payment by credit card. Payment in cash and by Holiday Check is possible only at the Tourist Information Offices of Roissy-en-France and Luzarches.
At each pick-up point, an agent from the Tourist Office assists the various departures. He is at your disposal at the airport using a tablet to guide you through the transaction.
The City Tour Grand Roissy Escale was created to enhance your connection and transform a moment of waiting into a pleasant experience.
On the other hand, check-in and border crossing times will be longer this summer 2023 at Paris Charles de Gaulle airport, given the large flow of passengers, plan to be at the airport 3 hours before your flight takes off.
We guarantee departures from one person.
Where do I catch my bus between Terminal 2E and 2F? (station 2)
To reach the pick-up point, go to platform H of the bus station (see photos).
Where to catch my bus at Roissypôle Est? (station 3)
Meet outside the bus station, platform A (near the Parc Astérix shuttles).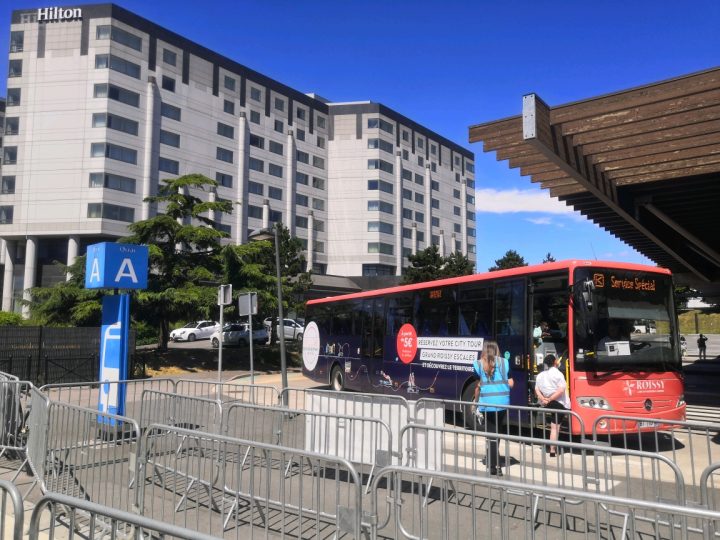 Where to catch my bus at Roissypôle Ouest? (station 4)
Find the stop located 200 meters from the MOXY, Holiday Inn Express, Mercure Convention, Innside by Melia, Residence Inn and Courtyard by Marriott hotels, next to the CDGVAL at the replacement shuttle level.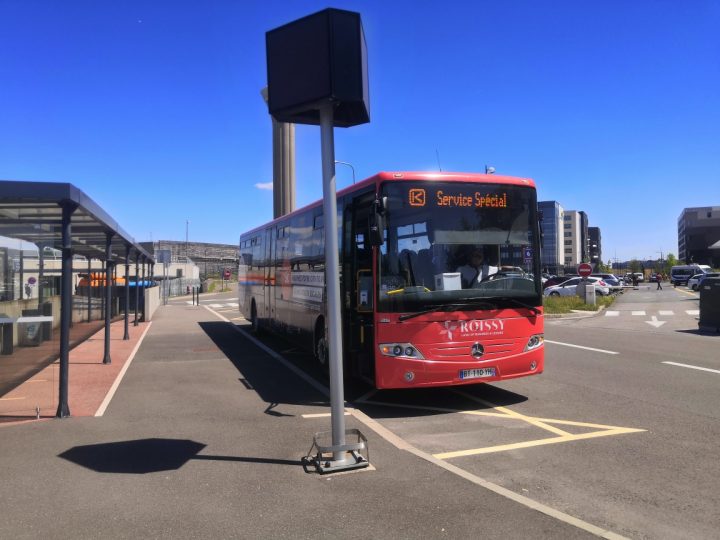 Where to catch my bus in Paris Nord 2? (station 6)
The bus stop is located near Hyatt, Formula 1, B&B, Ibis Budget, Novotel Suite, First class, Hyatt place and Hyatt house hotels. You can find it at the bus station "346 rue de la Belle Étoile".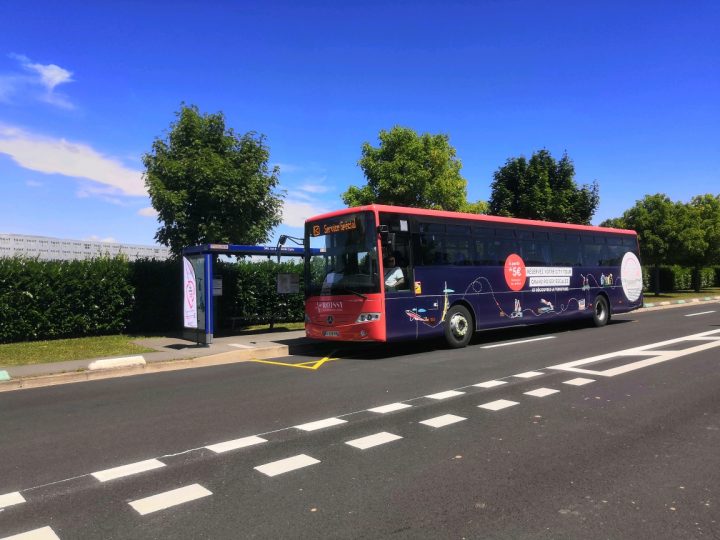 Yes, provided there is enough space on the second bus
You can take the equivalent of cabin baggage.
Otherwise, there is a luggage storage office at Paris-CDG airport with a service charge. You can check the conditions and prices directly on their website "Luggage of the World. »
The purchase of your ticket includes the outward and return journey by bus, but also free entry or discounts negotiated for you with our partners.
Please refer to each of the stopovers proposed in order to see which services or not are included in your stopover.
Under no circumstances can the Grand Roissy Tourist Office be held responsible if you miss your connection. No plane ticket will be refunded.
Aéroville offers a general tax refund service (in participating stores). You can save 12% when you spend more than €175 in several stores (for residents outside the European Union).
Go to the reception of the Nordic Chic area for more information or on 01 74 25 75 71.
Yes, if the rotations you wish to take follow each other well, you can do so by booking a morning ticket, an afternoon ticket or a day ticket which will allow you to take advantage of all the tourist points of the selected stopover.
Catering service is not included. On the other hand, we will offer you places to eat near your place of visit.
There are no age limits. Children, babies and young passengers (up to 18 years old) must be accompanied by their parents. Unaccompanied minors cannot be accepted.
We are sorry to inform you that you will be solely responsible if you miss the return bus.
No, animals are not allowed on the bus.