Natexpo Paris
From 22 Oct 2023 to 24 Oct 2023
French
Natexpo, the international trade fair for organic products, is the event that shapes the bio of tomorrow, organized by and for organic professionals and supported by the entire profession.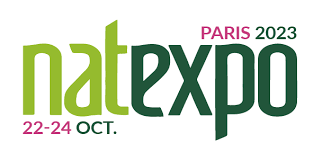 For almost 30 years, it has been a major event for all market players bringing together producers, manufacturers, processors, distributors and sector specialists at national and international level.

About ten spaces are dedicated to content. Unearth Bio-Trends through more than 100 conferences, workshops and demonstrations. Anticipate the evolution of the organic products market by taking part in the Natexbio Forum and the Bio-Trends Forum. Strengthen your product skills on the Food Supplements Forum, the Organic Ingredients Forum and the Cosmetic Innovations Forum. Attend the pitches of the Lab exhibitors and discover their solutions in terms of zero waste and circular economy.

Figures in forecast:
- 1 exhibitors expected
- 20 buyers
- 100 exclusive conferences
- 10 entertainment areas
- 3 days of 100% organic business
- 6 exhibition areas
COVID 19 special provisions
Health pass compulsory.
Types
Commercial events
Fair or show
labels
Biography
Flowers / Plants
Environment / Sustainable development
Prices
Entry is free for professionals upon presentation of a name badge. You can request it on the site: https://natexpo.com. In the absence of presentation of a badge, the entry will be charged to you 50 € HT per person.

- Toll parking.
Prices :
from 0 to 3 hours: 0,80 € / 15 min
then from 3:01 am to 6:0,70 am: € 15 / XNUMX min
then from 6:01 am to 8:0,40 am: € 15 / XNUMX min
from the 8th to the 24th hour: 20 €
per additional 24 hour period: 20 €

- Cloakroom / Luggage room
2 € per item
Reserve
From Sunday 22 to Tuesday 24 October 2023
Open Monday and Sunday from 9:30 a.m. to 18:30 p.m. Tuesday from 9:30 a.m. to 17 p.m. Dates to be confirmed.
Dates to be confirmed