Do you want to see the last Black Adam in an exotic and original way? And if we privatize a cinema room for a meeting or a seminar? Go to the cinema Pathe Aeroville within the Aeroville Shopping Center. Follow an exceptional treatment in 3 steps that will not leave you indifferent! Relaxation and sensations guaranteed.
Pathe Aeroville : a cinema anchored in modernity
Your experience begins as soon as you arrive at the cinema within the Centre Commercial Aeroville. Indeed, you have the possibility of taking your place on the Internet (without surcharge). Similarly, you can also do it on the touch terminals provided for this purpose. Thus, at Pathe Aeroville, we favor dynamic display with a logic of 0 paper or at least, no posters. The little extra? Choose your chair and take your time, your chair is waiting for you. Aficionados of the last row or fervent defender of the places closest to the screen, the numbered placement ensures that you benefit from your favorite seat at the start of your session! Your chair is reserved, so arrive stress-free at the start of your session and sit quietly in the room, even in case of high traffic.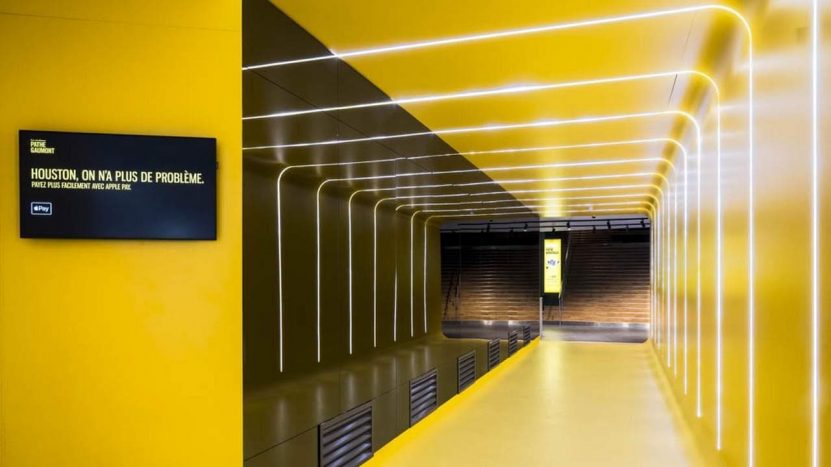 Equipped with 12 updated rooms, the Pathé Aéroville cinema stands out from classic cinemas with its original and ambitious offer. In the program ? 12 rooms whose 6 from 100 to 200 seats, 2 large halls with 400 seats, a Dolby Cinema room, 2 VIP rooms and a 4DX room. Your experience begins with a little relaxing break. So, head to the big screen in the hall where we broadcast a number of trailers. Likewise, take the opportunity to get rid of your personal belongings at free cloakroom space available.
3 steps to experience a special moment at the Pathé Aéroville Cinema
For an additional 20 euros in addition to your cinema ticket, embark on a three-step service that will take you on an exclusive cinematic getaway. Now is the time to enter the private lounge if you have chosen a VIP session! You will receive a personalized welcome with dedicated staff. Open evenings and weekends, you can enjoy an exclusive and privileged moment of distraction. So relax around board games, readings or an arcade machine that are available in space. Second step: the salon staff offers you a sweet or savory snack, with or without an alcoholic drink.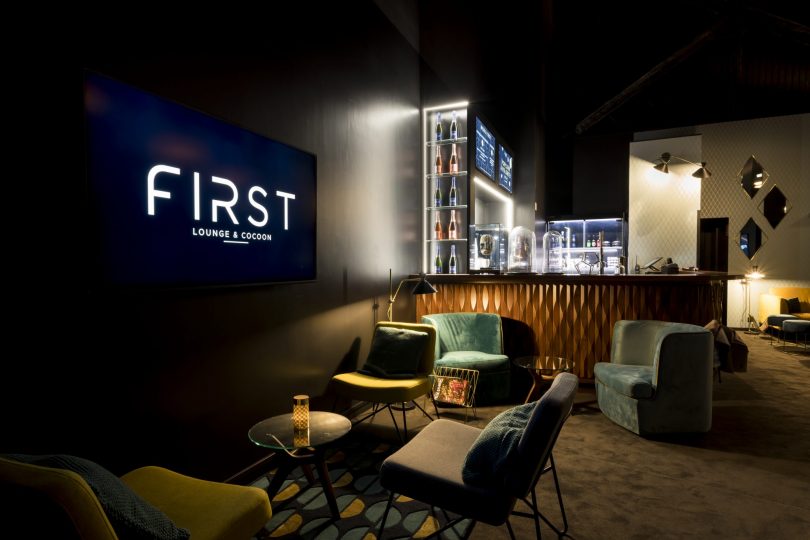 Finally, now is the time to go enjoy your movie in good company. Bring yourself your small tray filled with macaroons, nachos or, why not, a glass of champagne. Inherited from the concept imagined by Luc Besson, you will be immersed in one of the two VIP rooms: the cocoon or lounge room. Relax and let yourself be carried away by the first notes of the film which begins ... Extend your seat as you wish and enjoy your snacks, wrapped in the blanket at your disposal. Intimate atmosphere guaranteed!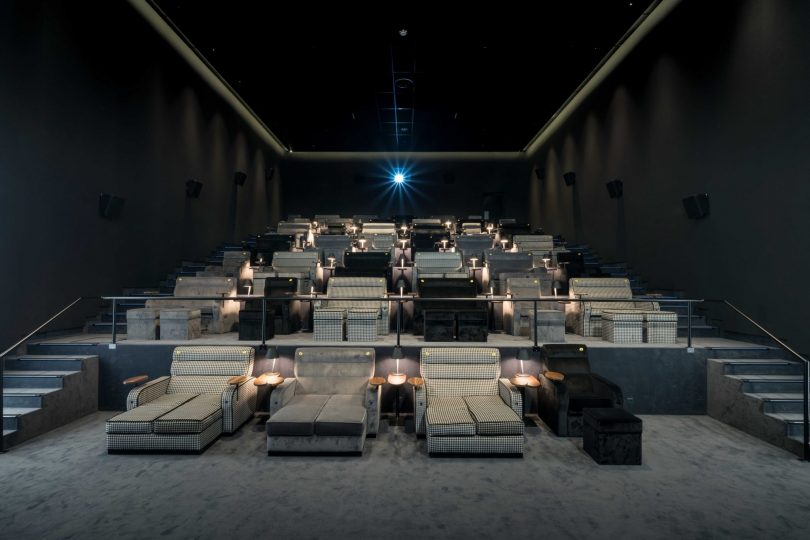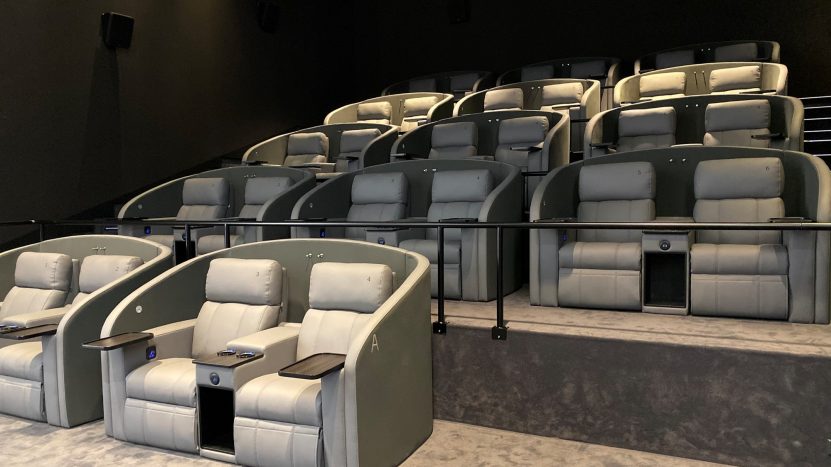 Want to vary the unique experiences?
Want to live other experiences? Come to Pathe Aeroville to enjoy the Dolby Cinema room which has 200 seats. So you will be immersed in a total immersive experience thanks to the Dolby Atmos sound, that is to say an immersive sound system which multiplies the effects of sound spatialization, more precise and more spectacular thanks to the numerous speakers distributed throughout the room at the front, on the sides, and especially on the ceiling, allowing '' further improve this unique immersive hearing experience.
In terms of screen quality, we note a luminosity, a homogeneity of the colors which is not made possible by other processes. A teaser at the start of the film will introduce you to this unique concept. Most ? The seats in the hall are black so as not to attract any reverberation of light, this attention to detail can be found right down to the hall fire extinguisher, fitted with a black cover!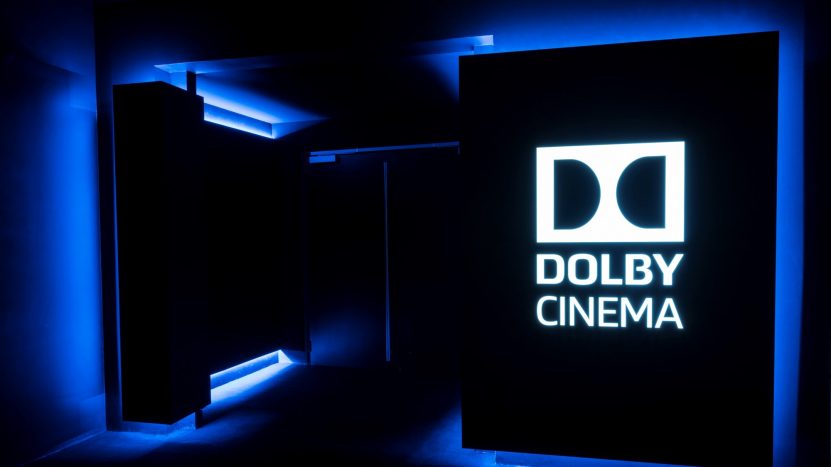 Finally, the cinema is also composed ofa 4DX room where the immersive cinema experience will take on all the more its meaning. Indeed, bring a pair of 3D glasses then get comfortable in your seat. Prepare to be faced with the elements that rage (rain, wind, vibrations, lightning, bubbles, snow, scents etc…) which will awaken all your senses!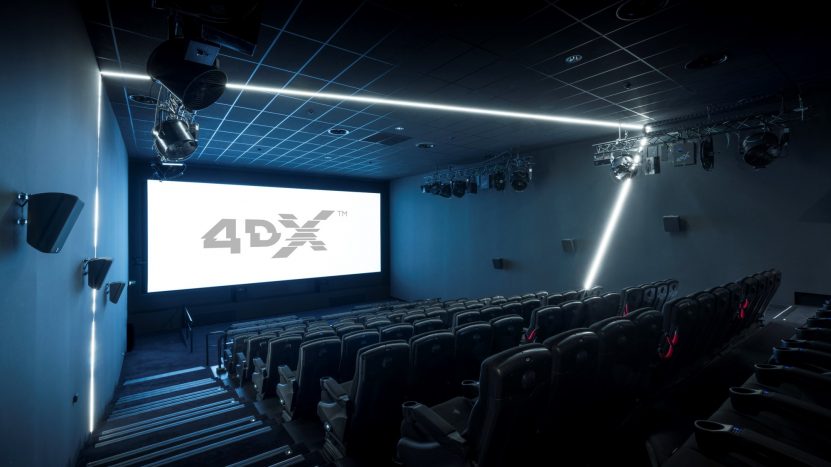 What if you organized your corporate event in a cinema? All the technology and comfort of the Cinema Pathé Aéroville rooms privatized for your teams. Choose between an exclusive cinema screening or a work meeting in the cinema! For more information, contact Tariana Carvalho – tcarvalho@ville-roissy95.fr or by phone 01 34 29 43 40.