Le Patte d'Oie Park located Gonesse opened its doors in the spring of 2017. The latter is the largest green space of the city with its 80 hectares. It is a space where Gonessians can walk freely and which combines nature, relaxation, biodiversity and sport. Located less than 10km from Paris-Roissy Charles de Gaulle airport, from the typical village of Roissy-en-France et its hotel zone, Patte d'Oie Park can be accessed by Roissypôle bus station in a few minutes by buses 22 and 27. It is an ideal rejuvenating nature activity during your stopover in Greater Roissy for several days. Alone or with family, discover our 5 tips to take full advantage of this "green lung" at the gates of Paris, disconnection guaranteed!

1 – Come learn about biodiversity at Parc de la Patte d'Oie
The park was designed to preserve and promote biodiversity in any case. Many years of study and work were necessary to bring this project to fruition. Thus, it was necessary to secure the park, revegetate and create mounds so that the water could flow without flowing into the water tables. In fact, you will be able to meet throughout your walk many information boards. These will give you information on the sustainable development, au Patte d'Oie Park. Thus, go to meet the various species littering the park while learning about the actions undertaken. to preserve biodiversity.
Similarly, in addition to the important flora that is present there, the fauna is not left out either! The passage of tractors that cause noise pollution and especially ground vibrations are prohibited. Indeed, the latter make some of the animals and insects. In this line, in order to ensure a environmentally friendly maintenance, many grazing areas have been planned. Grazing animals provide "mow" in a natural way and inexpensively. Perhaps you will have the opportunity to come across a herd of sheep or goats randomly on a path? This new "green lung" Gonesse will also enable the implementation of actions to biodiversity awareness carried out by city staff, as well as by young people engaged in the national civic service.
2 – Bring a pair of binoculars
Two lookouts were installed at Patte d'Oie Park in order to be able to take advantage of exceptional points of view. You can next to the Pinceron area observe the many municipalities that make up the Roissy Pays de France urban community, and which are close to Gonesse. Likewise, in the area of Roy's poolIs a splendid view of Paris and its surroundings which will be offered to your eyes. Climb the steps to the belvedere and gaze into the distance. In the program ? Eiffel Tower, Basilica of the Sacred Heart of Montmartre, Tour Montparnasse or even defense.
A word of advice, go a little before sunset to enjoy a panorama of impressive shadows, of these emblematic monuments of our capital and its surroundings. Finally, the aviation enthusiasts will be conquered. Indeed, the ambient silence will sometimes be disturbed by the passage of these giants of the air. Overlooking the sky Gonesse, you can admire them from the two belvederes.
3 – Bring your picnic
At the heart of this preserved nature, alone benches and picnic tables were installed at several locations Parc de la Patte d'Oie to ensure the comfort of walkers. Thus, shortly after entering through the access "Path of watercress", you can get rid of a meal break on one of the four picnic tables provided for this purpose. Are you accompanied by children? A small playground thrones there, composed of a slide, a wooden bridge and two small climbing paths. What's more, two other picnic areas have also been fitted out at the level of the two belvederes: the Pinceron and the Vivier du Roy. In these three areas, still adopting this approach rooted in Sustainable development, you will benefit from dry toilets !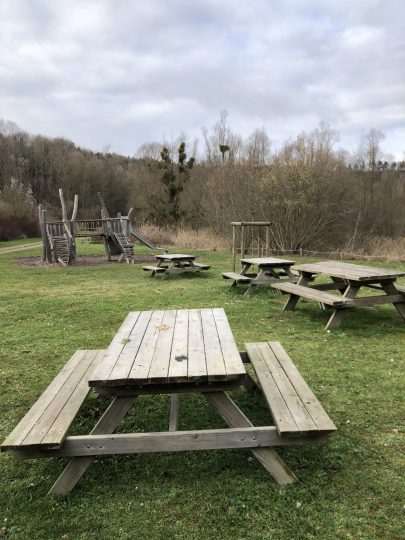 4 – Put on a pair of sneakers
Sunday or long-time sportsman, you will not be disappointed at Patte d'Oie Park. Indeed, the park has a fitness trail in the heart of this preserved landscape. Most ? The apparatus of the course is designed and manufactured by hand in France. This one is made by a small family business based in Lorient in Brittany. The sections used on the course are 100% recycled plastic with a average lifespan of 200 years. The latter comes mainly from recycling of agricultural tarpaulins used to grow flowers. Thus, you can combine in this 3,5 kilometer course nature and sport by taking advantage of exceptional viewpoints between two exercises, up to the lookouts.
Come experience the two courses offered : running and exercises or running and stretching. You can fully enjoy 10 apparatus including 28 exercises. Finally, if your heart beats more for cycling, know thata mountain bike area has been specially fitted out near the Vivier du Roy. Ready, Set ? Go!
5 – Animal lovers, welcome to Patte d'Oie Park!
Young and old will be delighted by the many animal presences au Patte d'Oie Park. First, the space has three grazing areas spread over 80 hectares. Thus, you will discover 2 horse pastures (Le Pinceron and Le Vivier du Roy) with belvederes. Likewise, we also find a sheep and goat pasture (the Chatillon). Randomly during your walk, you will be able to come across these inhabitants who contribute to the preservation and development of biodiversity within the park.
Moreover, the plant species being flourishing, do not hesitate to raise your eyes to observe the animals which come to nest in the hollow of one of the trees or on the flowers of the Patte d'Oie Park, but also in the Croult, this small river which passes within it. Finally, if you wish to visit on horseback, the Equestrian Center Haras de la Fontaine Cypierre is located at the main entrance to the park (chemin des cressonnières) and offers you this activity which will remain etched in the memory of your children!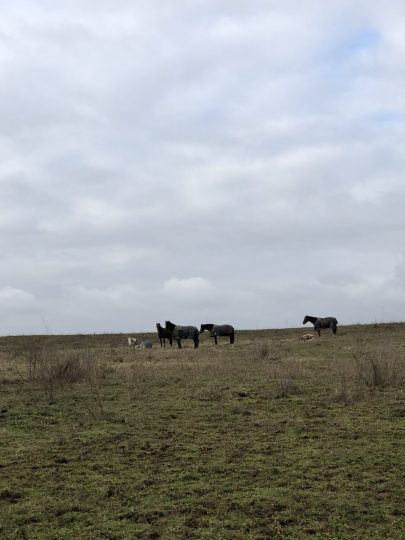 Useful information
Find the access map of Patte d'Oie Park by clicking here. 7 different bus lines allow you to get to the park. Two of them are departing from Roissypôle bus station.
The park is open every Wednesday, Friday, Saturday, Sunday, and public holidays.
Between March 1 and October 15 : open from 9 a.m. to 19 p.m.
Finally, in winter, from October 16 to February 28, the park opens from 9 a.m. to 17 p.m. and remains closed on public holidays.