Are you a business tourist looking for a friendly and trendy place to organize your meeting? Direction the Moxy Paris Charles de Gaulle Airport, the most lifestyle hotel in the Greater Roissy.
1) Share privileged moments between employees at Moxy
Are you passing through a trade show and want to take advantage of original activities and take a disconcerting relaxation break in your hotel?
With the credo of offering a personalized experience that will give you an unforgettable stay, the establishment adapts to your needs by providing you with numerous services. Thus, there are several small meeting rooms with an intimate setting, which can accommodate 4 people to enjoy discussions in small groups in a relaxed way. Find your employees to work in peace, on simple reservation while taking advantage of services such as free wifi. Want to chat over a coffee? the Moxy can, at your request, install machines to perfect these privileged moments of exchange. Finally, if you need more equipment, go a few meters to the lobby to use one of the two MacBooks and the printer.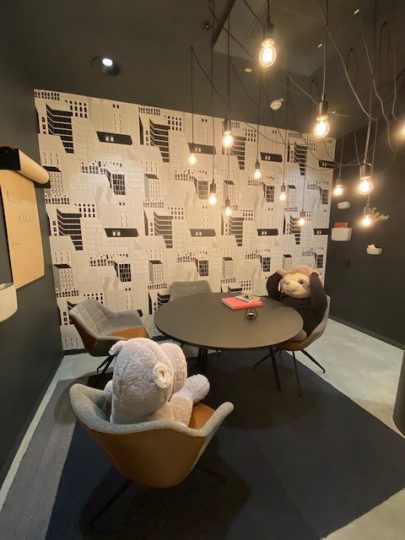 Do you want to welcome more employees? the Moxy Paris Charles de Gaulle Airport to the solution! Indeed, a seminar room of almost 70 square meters, with modern and elegant decoration is available to accommodate 22 people in the form of a "U" and up to 30 people in theater. For your comfort, take your dose of vitamin D while enjoying daylight or use the air conditioning. Do not stress any more for the organization of your meeting because, thanks to the Moxy, (almost) no need for connections! Use the "click and share" system by broadcasting your document via the video projector, while taking advantage of each moment of discussion via the "loud speaker" system to follow the thread of the discussions.
2) Relax or let off steam at the gym
After this intense seminar day, why not go and recharge your batteries at the gym? Open 24 hours a day and with several state-of-the-art machines, such as Rocky Balboa, it's time to put on a pair of gloves for a kick-boxing session on the pink punching bag Moxy found in all of the brand's hotels. Our cleanliness freaks will be able to use the disinfectant wipes available and our Sunday sportsmen, the towels available on the shelf.
If your session has not yet drawn all your energy, find several dumbbells with any type of weight to refine your salient muscles. In order to give you more motivation, we invite you to use the television available to broadcast music or lively videos. Keep up the pace, but don't forget to hydrate yourself regularly at the water fountain in the room! Phew, your session is finally over, head to the bar-restaurant for a well-deserved gourmet and invigorating break.
3) Bond over a good meal
This intense activity has whetted your appetite! A real strong point in the establishment with its 80 seats, you can enjoy international dishes from 10am to 23pm and this…in continuous service, a luxury! To best satisfy your taste buds, the menu changes throughout the day and adapts to all tastes since the menu is also vegetarian and vegan. Special mention to the cauliflower risotto and Peruvian chicken accompanied by the most fragrant basmati rice, a delight for your discerning taste buds!
What could be better than eating around the same plate to create a bond? For a convivial moment in the company of your collaborators, we recommend the shared platter which generously consists of falafels, onion rings, chicken wings and cheddar nachos. What satisfy the greatest number! At Moxy Paris Charles de Gaulle Airport, sharing also involves staff. So do not hesitate to call on one of the bartenders to accompany these dishes with a beer, a cocktail or a soda. They will be happy to meet all your expectations.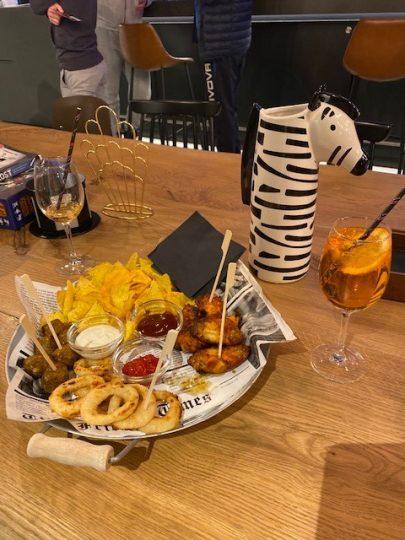 4) Challenge your employees and enjoy fun activities at Moxy
After this moment of sharing, it is time to challenge each other a little between collaborators. To do this, go to the large table next to the bar to discover one of the many board games recently available at the hotel. You haven't found what you're looking for among all these games, or, your winning soul wants to challenge your team even more? Head to table football or the brand new ball game to practice your precision and bring down your opponents... Soon, you will also be able to discover a darts game. What do you encourage to rediscover the Moxy !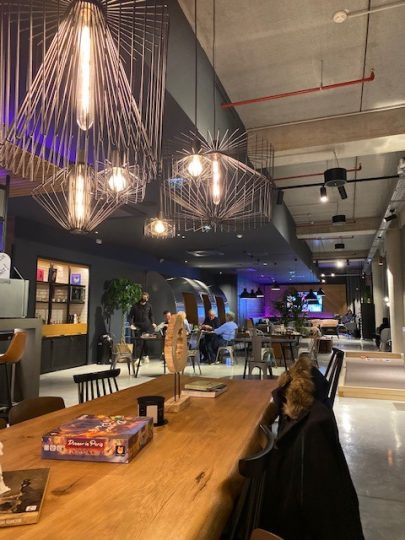 Do you think you have discovered all the secrets of the hotel? Well it's not over! Indeed, weekly and local events are organized every Thursday, throughout the year. Come dance to the rhythm of live music and live DJs. In addition, put your creativity to good use during the many workshops on site, involving producers and artisans from the area. Thus, learn to discover your collaborators in a spirit "like at home", while being far from home. The hotel also practices a "light management" and "music management" policy, the levels of lighting and sound of which are automatically regulated throughout the day. Thus, you can enjoy optimal comfort by adapting to your needs. Because we could be mistaken but, let's not forget, you came to work!
Your energy gauge is now completely depleted. It's time to go to your room after you've been unleashed to some frenzied music. Sweet dreams…