We take you to theone of the jewels of French heritage surrounded by nature in a territory marked by 100 years of history: the Oise-Pays de France Regional Natural Park. Immersion in its royal forests and the magic of its villages and castles.
A unique heritage and preserved biodiversity
Le Oise-Pays de France Regional Natural Park derives its originality from a unique architectural heritage and its countless natural sites which extend over 70 hectares, including 000 of forests, and 30 municipalities, across Pont-Sainte-Maxence in the North, Mareil-en-france (where theOT Grand Roissy has joined forces with the local producer Bee flow) and Luzarches to the south, Villiers-Adam to the west and Auger-Saint-Vincent to the east. Forest massifs, parks and gardens, castles from all eras, vernacular heritage (laundries, mills, ponds), and horse racing traditions have shaped this unique identity over the centuries. Committed to a process of protecting biodiversity and heritage, the Regional Natural Park has four sites classified as "Natura 2000".
Many places & visits are available to you in the PNR Oise-Pays de France
To smell this exceptional heritage, set sail for one of the most famous medieval fortresses: the Chantilly castle, located a stone's throw from Senlis. Allow a good half-day to discover this unique site, which includes the Condé museum housing a very rich collection of classical paintings, a cabinet of illuminated books, its French-style gardens and their labyrinths, the Great Stables, not to mention Le Hameau du château, famous for its whipped cream. Continue your strolls toin the romantic gardens of Jean-Jacques Rousseau park in Ermenonville. Like the philosopher, many historical figures, fascinated by the poetry of landscapes, have made this park a place of intellectual pilgrimage.
Finally, why not end your day on a high note with a visit to the sublime Royaumont dating from the 13th century and its pretty gardens? A 10-minute drive away, you can then go to the charming medieval town of Luzarches. Discover the very pretty market hall in the city center, the Saint Côme Gate or againSaint-Côme-Saint-Damien church before setting off to meet the astonishing cows of the Highlands in Rocquemont valley.
An application for your hikes in the Oise-Pays de France Regional Natural Park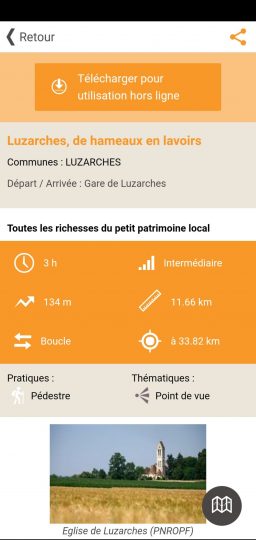 In order to better explore the gems of this PNR, the application Oise-Country of France Park hike should delight lovers of walking. In one click, you can organize your getaways, on foot, on horseback or by bike. Take, for example, the direction of trails of the Halatte massif to discover the Pagnotte mountains, Calipet et High, high points giving access to breathtaking panoramas. With its tall forests of oaks and beeches, the forState of Halatte is one of the most majestic, in the midst of deer, roe deer, wild boar, dolmens and other menhirs.
Hike with the family to " Luzarches, from hamlets to washhouses », On a pedestrian circuit for a family audience showing remarkable points of view of the Luzarchois landscape and the surrounding villages.