Urban Pizza is a modern pizzeria located in the heart of Écouen. We offer a wide variety of delicious recipes, with a 100% homemade dough.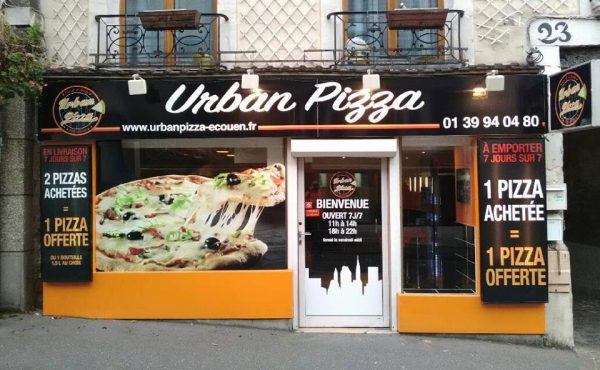 Urban Pizza offers a large selection of pizzas (more than thirty) with diverse and varied flavors. From traditional recipes, such as Marguerita, to the most exotic (Mexican, Indian, etc.), including very gourmet pizzas for carnivores (Tartiflette, Meat Lover, etc.), they have everything you need for treat yourself!

Do you love pizza and tacos? So don't miss the original concept: the Switch. Choose from 8 different meats and enjoy this "pizza-panini" like no other, topped with mozzarella and cheddar sauce.

For small appetites, also discover our selection of classic paninis (kebab, minced meat, or even ham) as well as salads, prepared by them with fresh products.

Do you want to enjoy your pizza or sandwich at home? No problem ! Order takeout and pick up your meal whenever you want. They can also deliver to you personally at home.
Opening
All year-round
Open Monday, Tuesday, Wednesday, Thursday and Saturday from 11 a.m. to 14:30 p.m. and from 18 p.m. to 23 p.m. Friday and Sunday from 18 p.m. to 23 p.m.
Open all year

| Days | Schedules |
| --- | --- |
| Monday | Open from 11 p.m. to 14 p.m. and from 30 p.m. to 18 p.m. |
| Tuesday | Open from 11 p.m. to 14 p.m. and from 30 p.m. to 18 p.m. |
| Wednesday | Open from 11 p.m. to 14 p.m. and from 30 p.m. to 18 p.m. |
| Thursday | Open from 11 p.m. to 14 p.m. and from 30 p.m. to 18 p.m. |
| Friday | Open from 18h to 23h |
| Saturday | Open from 11 p.m. to 14 p.m. and from 30 p.m. to 18 p.m. |
| Sunday | Open from 18h to 23h |