Charles de Gaulle airport is a real transport hub. Indeed, after your flight, you can reach many destinations thanks to its stations: TGV, RER, and bus station.
TGV station
The "Aéroport Charles de Gaulle 2 TGV" station is located between terminal 2D / 2F and terminal 2C / 2E.
It is served by both the CDGVal, the RER B. You can connect many cities such as Lille, Brussels, Cherbourg, Le Havre, Lyon, Marseille, Montpellier, Nantes, Rennes, Strasbourg, Toulouse, Tours, Brive-la- Gaillarde, Champagne-Ardenne TGV, Avignon…
The station is set to become the terminus of the future CDG Express link.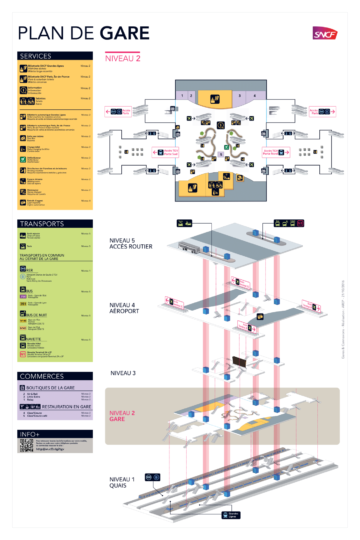 The station is spread over 5 levels:
Level 1 : Access to the platforms and trains of TGV, Ouigo and RER trains
2 level : SNCF and RATP ticket office and information as well as a relaxation area.
3 level : Lost and Found Office and Post Office.
4 level : Pedestrian access Terminal 2, CDGVal station and luggage storage.
5 level : On the T2D / T2F side, bus stop for the hotel shuttles in Roissy-en-France and the N1 bus.
T2C / T2E side taxi stand
Paris Aéroport opens a luggage room at the exit of CDGVal station from Terminal 2 in partnership with Baggage of the World (from € 6 per bag).
The RER station "Aéroport Charles de Gaulle 2"
Located under the same glass roof, the two RER and TGV stations are nevertheless distinct. A grid at the platform level marks the limit between the two stations. It is the terminus of branch B3 of the RER B.
To access the platforms, you must have a specific ticket. In fact, you cannot reach Paris with a Ticket T.
The RER station "Aéroport Charles de Gaulle 1"
This station is located only 400m from Terminal 3. You can therefore easily reach it on foot.
You must take the CDGVal to reach Terminal 1.
This station is the first RER station at the airport when you come from Paris. It allows you to reach the headquarters of Air France, the Ibis, Novotel, Hilton, Citizen M, Pulmann, Ibis Styles, Roissypôle bus stations, the offices of the Dome, Datagora, etc. on foot. and a stop on rue de Dublin for the shuttles of the 24 hotels located in Roissy-en-France.
Roissypôle bus station
The CDGVal serves the Roissypôle bus station. It is located on the surface between the RER station and Terminal 3. Nearly 70 lines buses and coaches leave from the nine platforms of the station. They serve Paris, the north, the east of the Île-de-France and Picardy.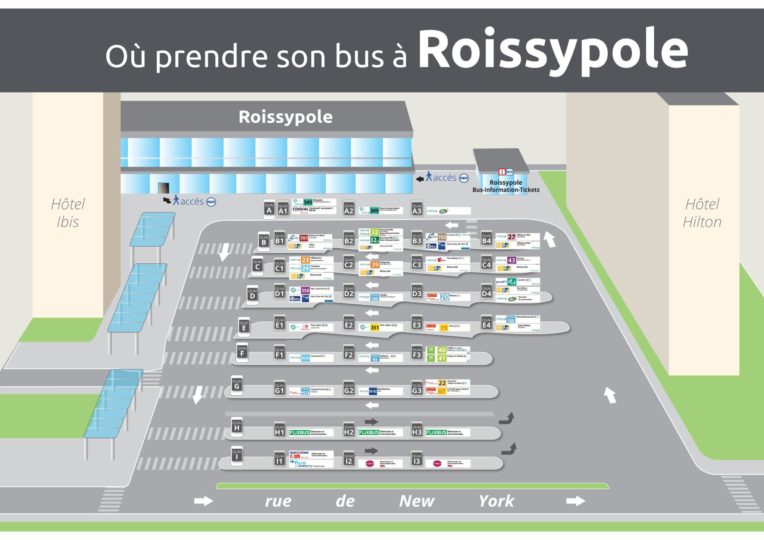 Below is the list of bus lines that serve Roissy-en-France:
To join the alley of the Orchard :
- Line 93
- Line 27
To join the center of the village :
- Line 95-02
- Line 100
To join the village, Eglise stop :
- Line 22
To join the center of the village and Aéroville :
- Line 32
You arrive at Paris-Charles de Gaulle: follow Air France's advice