Charles de Gaulle airport is a real transport hub. Indeed, it has many transport infrastructures allowing you to reach your destination from your point of arrival (TGV line, RER B line, and bus lines).
The TGV / RER B station – Terminal 2
The Aéroport Charles de Gaulle 2 TGV station is located between terminal 2D/2F and terminal 2C/2E. It is located on level 1 of terminal 2, under the Sheraton Paris Airport & Conference hotel.
It is served by both CDGVAL (level 4) and RER B (level 1). The various terminals give you easy access to the station, level 4. A shuttle and taxi drop-off is also available on level 5, road access, on the surface of the station.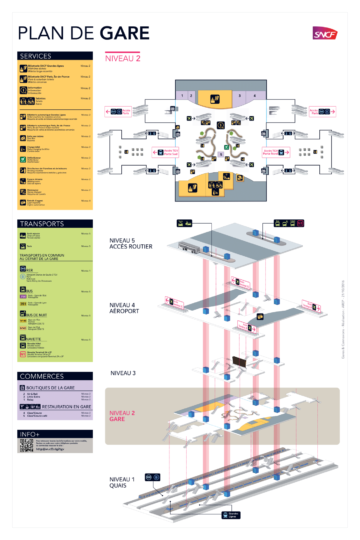 The station is spread over 5 levels:
1st level : Access to the platforms for the TGV, Ouigo and RER B lines
2nd level : Point of sale RER B station, SNCF and TGV line
3nd level : Lost property office, post office and COVID-19 vaccination center
4nd level : Terminal 2 pedestrian access – A,B,C,D,E,F, CDGVAL access, luggage storage and Sheraton hotel
5nd level : Access to taxi drop-off (Terminal 2 – C and E); Access to hotel shuttles and airport shuttles (bus N1) – Terminal 2 – D and F
Paris Aéroport opens at the exit of the CDGVAL station of Terminal 2, level 4, a luggage storage in partnership with Baggage of the World.
The RER B station "Roissy Charles de Gaulle Airport 1"
This station is located just 400m from Terminal 3, in the center of the Roissypôle Est area. You can therefore reach it easily on foot. It has access to the CDGVAL, to reach the other terminals of the airport as well as the Roissypôle bus station.
This station is the first stop of the RER B line towards the airport from Paris. It allows you to walk to the Air France headquarters, the Ibis, Novotel, Hilton, Citizen M, Pulmann and Ibis Styles hotels as well as to the Dôme offices. It has a drop-off point for shuttles as well as a taxi rank, located rue de Dublin.
Roissypôle bus station
It is located on the surface between the RER B station and Terminal 3, rue de New-York. Nearly 70 lines buses and coaches depart from the station's nine platforms. These serve the Asterix theme park, intramural Paris, Île-de-France as well as outlying regions. The bus station sales point is located in front of platform A.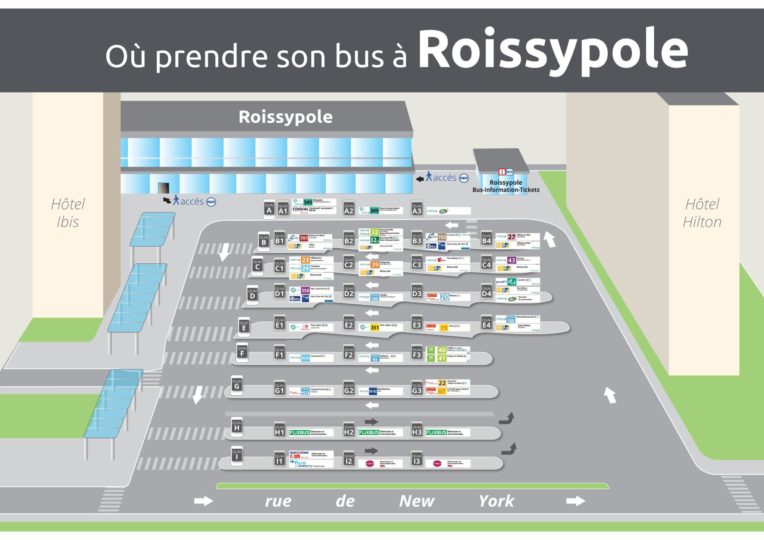 Below is the list of bus lines that serve Roissy-en-France:
To join the alley of the Orchard :
– Express Line 93
- Line 27
To join the center of the village :
- Line 95-02
- Line 100
To join the village, stop "Eglise » and Aeroville :
- Line 22
To join the center of the village and Aéroville :
- Line 32
Are you arriving at Paris-Charles de Gaulle airport? Discover the Grand Roissy destination for a pleasant stay!