In the immediate vicinity of Paris Charles de Gaulle airport, there are nearly 40 hotels and hotel residences.
The hotels located closest to the terminals are accessible via the CDGVAL the automatic metro which links the terminals together.
For hotels located in villages near the airport (Roissy-en-France, Mesnil Amelot) hoteliers have set up shuttle services, most of which are shared; others have their own service.
In order to facilitate your access to your hotel, and to take the right shuttle, the Grand Roissy Tourist Office has developed a web service to allow you to identify the right way to get to your hotel from your terminal. arrival
The impact of Covid 19 has forced some hotels to temporarily close their establishment. Find the list of hotels open on the Grand Roissy more informations . The Black, Pink and Blue hotel airport shuttles are suspended, thank you to contact the open hotels to know the rotation of their shuttle now in demand
Otherwise, during this post-covid period, the Tourist Office also advises you to take public buses from Roissypole. The T + Ticket (or ex metro ticket) is on sale at the CIF Kéolis offices in Roissypole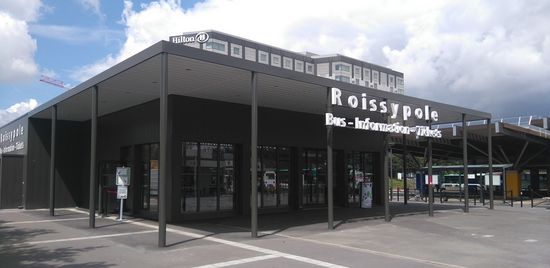 Which public bus for your hotel? In read more HERE
How to get from your airport terminal to your hotel? How to get from your hotel to your airport terminal? swap_horiz