Roissy-en-France taxis
For your travels in and around Paris, taxis and VTC de Roissy-en-France are at your disposal, including:
GTI Taxis : 01 34 29 92 70
or via their website: www.taxi-roissy-en-france.fr

Time Attitude : 06 89 76 39 73
Taxi ranks at Paris-Charles de Gaulle airport
To leave the airport, taxis are available at the exit of the baggage claim area of ​​your arrival terminal :
Terminal 1: gate 24 on the arrival level
Terminal 2A: door 6
Terminal 2C: door 14
Terminal 2D: gate 7
Terminal 2E: gate 11 on arrival level
Terminal 2F: gate 11 on arrival level
Terminal 3: exit from the arrival hall
Terminal 2G: blue door
Only these taxis are allowed to take over customers. Please note that you may be approached at the exit from the luggage delivery room by persons claiming to be taxis. We invite you to decline any transport proposal.
Pricing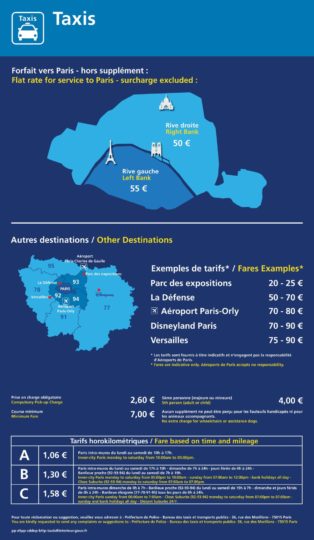 The rates are regulated between Paris-Charles de Gaulle Airport and Paris.
Travel times vary from 35 minutes (Paris <> CDG ​​Airport) to over an hour depending on traffic density.
Beware of rush hour traffic, calculate a longer journey time.
Increased rates : Count an increase of about 15%
between 19 p.m. and 7 a.m. for commuter trips
between 17 p.m. and 10 a.m. for journeys in intramural Paris

Passenger vehicles with driver
LDR-TRANSPORT
"LDR TRANSPORT offers you a personalized support service focused on availability and punctuality with a team fully at your service.
We offer 9 seater vans with tinted windows and very spacious trunks, to ensure comfort and discretion.
Located in the heart of the Roissy-en-France hotel park, LDT TRANSPORT offers several types of services, 24 hours a day, 24 days a week: airport-station shuttle, individual or group transfer, company transport, visit of Paris, provision with driver ... "

More information on 06 15 36 85 21
SS Limousine
SS Limousine puts at your disposal a transfer service to and around Paris. To get to your salon or simply move around and visit the region, think of SS Limousine.

More information on 07 63 41 92 79
SIXT
With the SIXT application book a private driver on www.sixt.fr